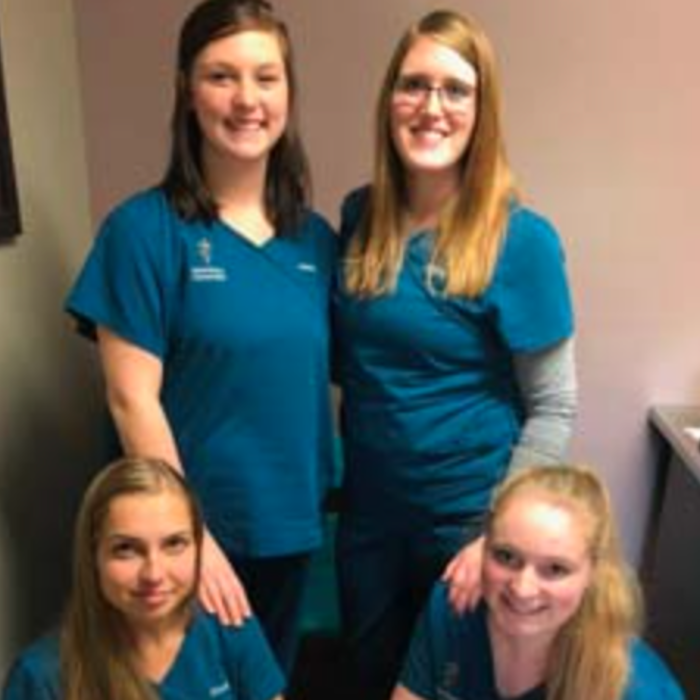 Abby - Abby has worked at Shakopee Vet Clinic since March 2013. Her favorite part of the job is client education and parasites! She has two dogs named Mazie & Kai, and a new baby boy (Logan), who she adores and always keeps her on her toes. Her hobbies include findings new places to hike with her boyfriend and dogs and she is always looking for new ways to redecorate their home.
Stasia - Stasia's favorite part of the job is getting to comfort stressed out patients, and the RARE few moments of puppy/kitten snuggles. Stasia is owned by a Doberman named Diesel, and two cats - Mars and Roman. When she's not at work, Stasia enjoys hiking or running with Diesel, catching up with friends, and spending lazy days with her husband and the cats.
Katie - Katie swipes right to all our squished faced bulldogs and likes getting to know our clients. Katie goes home to Bernice & Louise, her two pups. In her free time, she enjoys camping with family, goat yoga and going to WWE events. Stop in and say hi to Katie!
Hannah - At SVC, Hannah enjoys being an anesthesia technician most and giving the patients extra TLC while in the clinic. In her spare time, Hannah enjoys hunting with her husband and spending time with her two young girls. Hannah shares her home with three dogs (Louie, Willow & Kali). Say hi to Hannah the next time you are in the clinic!